Ginger - I Need A Foster!'s Web Page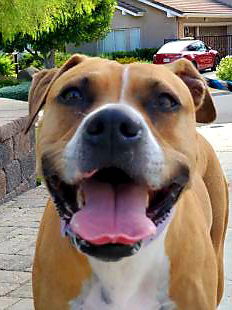 Name:
Ginger - I Need A Foster!
Breed:
American Staffordshire Terrier / Mixed (short coat)
General Potential Size:
Medium
Current Age:
5 Years 9 Months (best estimate)
Activity Level:
Moderately Active
Indoor or Outdoor:
Indoor Only
Description:
Meet Ginger, a s weet girl who is a bit insecure so she has a shy personality at first. Once you give her a few minutes to trust you, she gets comfortable. She is beautiful and on the smaller side. We believe her to be comfortable coexisting with well behaved, mellow dogs.
Ginger loves to go hiking and has amazing leash manners. She loves to play with toys, her favorite are tennis balls and frisbees. Once Ginger accepts your "friend request" she is a sweet and loving girl.
Please consider sponsoring Ginger with either a one-time or monthly tax-deductible donation. Your donation will help It's The Pits with day-to-day care, including food, vaccinations, flea treatment, treats and toys. Click on the Sponsor This Pet link above to make your donation today. Thank you!
Videos of Ginger - I Need A Foster!:



Other Pictures of Ginger - I Need A Foster! (click to see larger version):

190.4k

289.5k

184.7k

68k

220.7k

165.1k

81.5k

36.4k

567.1k

542.4k

200k

385k

301.9k

138.1k

54.1k

66.1k

74k

130.3k

108.5k

110k

341k

148.6k

249.7k

87.4k

256k

271.5k