Maggie - I Need a Foster!'s Web Page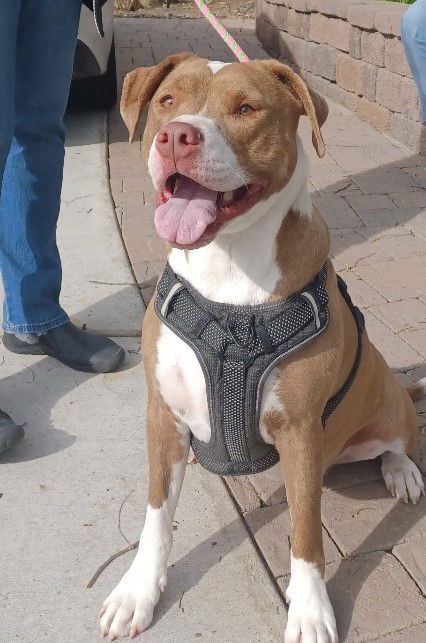 Name:
Maggie - I Need a Foster!
Breed:
American Staffordshire Terrier / Mixed (short coat)
General Potential Size:
Medium
Current Age:
4 Years 3 Months (best estimate)
Activity Level:
Moderately Active
Indoor or Outdoor:
Indoor Only
Description:
Meet Maggie! This beautiful girl was adopted through us in 2020 and is currently looking for a new home (through no fault of her own). She is crate trained, knows her basic commands, is potty trained, and she does not jump on furniture! She loves her walks, and is friendly to other people who come to say hi. She does get excited when she sees another dog, but listens to the command "leave it" well. Maggie loves bananas, and apples, and peanut butter. She is not picky when it comes to her dry food. And she has had training with hand feeding to keep her from resource guarding her food bowl. Miss Maggie loves her crate, and her big pillow bed in it. She can sit and enjoy a bone for a long time when you need to get things done around the house! Maggie is good with kids and she is also good with other animals, although she is quite large and strong, so she needs a little guidance/direction not to approach too fast or rough. I f you have a potential big brother for her, who loves to play, she would be their best friend!
Please consider sponsoring Maggie with either a one-time or monthly tax-deductible donation. Your donation will help It's The Pits with day-to-day care, including food, vaccinations, flea treatment, treats and toys. Click on the Sponsor This Pet link above to make your donation today. Thank you!
Other Pictures of Maggie - I Need a Foster! (click to see larger version):

694.2k

734.5k

794.3k

426.9k

480.6k

2774k

896.7k

5610.3k

779.9k

826k

72.2k

492.6k

86.2k