Athena - I Need A Foster!'s Web Page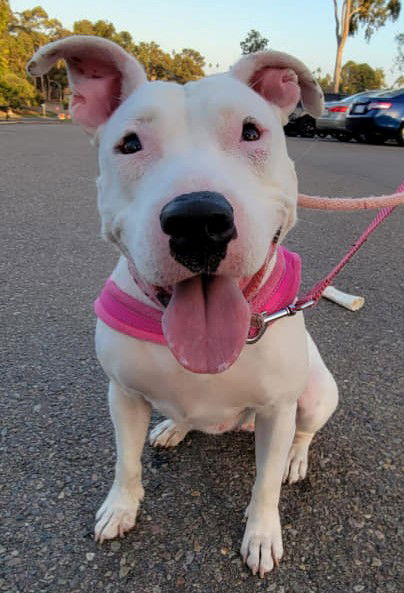 Name:
Athena - I Need A Foster!
Breed:
Terrier / Mixed (short coat)
General Potential Size:
Medium
Current Age:
1 Year 5 Months (best estimate)
Activity Level:
Moderately Active
Indoor or Outdoor:
Indoor Only
Description:
Athena is an exceptionally intelligent and happy young girl rescued from the streets of Mexico after having a litter of puppies. She's on the smaller side at about 45 lbs, and has a lot of energy - she would make a perfect running/hiking buddy or even agility dog. She does well with other dogs but she can sometimes approach a little too quickly, wanting to play. Because she is so smart and athletic, she will need mental and physical exercise to be her best self. She is perfect in a crate and takes correction well and responds. This girl is happy 24/7 and a great dog when properly exercised. She is somewhat green as she is still young but we've been working with her and she has been very easy to train. Her Foster says " Her ZEST for life is contagious and you can't help but feel happy around her."
Please consider sponsoring Athena with either a one-time or monthly tax-deductible donation. Your donation will help It's The Pits with day-to-day care, including food, vaccinations, flea treatment, treats and toys. Click on the Sponsor This Pet link above to make your donation today. Thank you!
Other Pictures of Athena - I Need A Foster! (click to see larger version):

52.6k

53.4k

33.9k

36.8k

222.8k

114.2k

96.3k

85.9k

114.2k

1001.3k

157.4k

104.4k

187.5k

152.9k

82.8k

79.5k

99.7k

1791.2k

1578.7k

98.5k

110.9k

97.5k

2284.9k

278.9k

367.8k

507.5k

634.9k

427.4k

591.2k

368.2k

441k

312.3k

609.4k