COURTESY LISTING - Karly's Web Page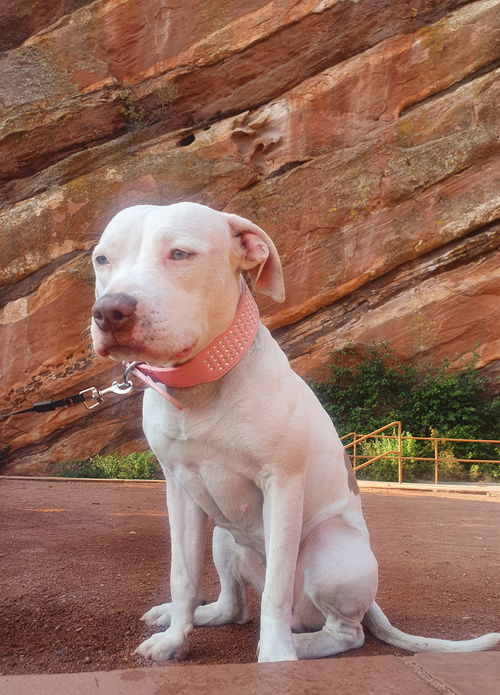 Name:
COURTESY LISTING - Karly
Status:
Available for Adoption
Please Note: This animal is listed as a courtesy to another organization. Please be sure to contact the foster/caretaker for more information about her.
Breed:
American Staffordshire Terrier / Mixed (short coat)
General Potential Size:
Medium
Current Age:
1 Year 8 Months (best estimate)
Activity Level:
Moderately Active
Indoor or Outdoor:
Indoor Only
Special Needs:
Separation Anxiety sounds like...
Description:
Meet Karly! She is absolutely a sweetheart and so playful but she also deals with stress and anxiety when left alone. She loves to be close and cuddle. She really is a great dog! Loves car rides, going for walks, camping and road trips! S
She is used to being indoors with access outside by means of a doggie door, and is not good in a crate, cannot be locked outside. She's fully vaccinated and she's potty trained.
She has been allergy tested and results can be provided to interested adopters. Her current family is still trying to find the right homecooked meal plan but so far she's done well with ground beef, beef liver, broccoli, beef bone broth, pumpkin purée, applesauce, sardines and a daily dose of probiotics and probiotics digest care packets.
She needs someone who has the time and knowledge to care for her. Her current family recognizes that they cannot give her all the care she needs, and want to find her a better home than they able to provide her with, due to time and financial limitations.
For more information, or to meet this sweet girl, please contact Rozalyn at 760-269-9286 or berdequez88@gmail.com.
Other Pictures of COURTESY LISTING - Karly (click to see larger version):
| | |
| --- | --- |
| 2744.5k | 942.9k |